About International Masonry Specialists
Serving Northern California's East Bay area, International Masonry Specialists is based in Oakland. We are fully licensed contractor that designs and builds innovative hardscapes and structures to create indoor and outdoor environments that will improve and enhance your leisure, recreation, and entertainment areas. Our vision is to develop hardscapes and livingscapes specific to each client's lifestyle, environment, and home, bringing a harmonic balance for many years of enjoyment.
Our services range from indoor home improvements such as tile work and fireplace design to outdoor hardscape and chimney design, construction and repair (including chimney sweep services). Not all of the masonry work shown in this Web site was designed by IMS. While we design and construct many of our projects, we will also work with your architect or designer to make your vision a reality. The design process for each home's interior and exterior should be both exciting and interactive to suit your desires. International Masonry Specialists take into consideration individual tastes and surroundings, employ our professional knowledge and experience, and present the ideal plan resulting in uniqueness, added property value and maximized environmental harmony.
We feel that each project is an opportunity to identify new design solutions that will not only meet, but exceed your expectations. If you are interested in our services or would like a quote, contact us today.
About Jason Wady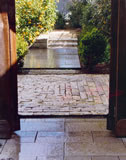 Jason Wady is the owner and Senior Masonry Hardscape Designer for International Masonry Specialists, Inc.
Trained and educated at the prestigious Colchester Institute in England, Jason Wady, owner of International Masonry Specialists takes pride in his company's innovative and creative work. Jason has been in the business for over 20 years, lending his talents all over the world, including Germany, England and now the U.S. His focus has been, and through IMS, Inc. continues to be bringing to life the images of homeowners to make their homes and gardens an extension of their persona and style.